OUR PRESENT CHAIRMAN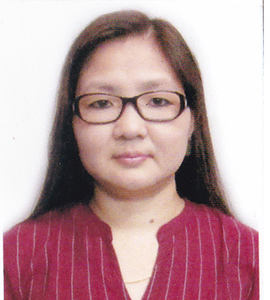 From Judiciary to philanthropy – a tough choice for Anya: -

Ratan Anya, after graduating from DN Govt. College, Itanagar, she obtained LLB from Delhi University in 2005 and registered herself with Bar Council of Assam, Nagaland, Meghalaya, Manipur, Tripura, Mizoram, Arunachal Pradesh & Sikkim in the same year to become the first advocate in her community & serve as Panel advocate (2007) of Govt. of Arunachal Pradesh.
She had served Oju Welfare Association (OWA) as a Counselor under the scheme of Family Counseling Centre, besides serving as member of Women's Welfare Association (2006-07) & State Commission for Consumer Dispute Redressal.
She has a strong zeal to learn about the culture and socio-economic life of the rural people. This urge compelled her to travel to various countries of Asia to blend in the rural life of those countries. She has also travelled to a few countries in Europe.
She married Abhisek in 2012 and is the eldest daughter in law of Padmashri Awardee Dr. (Hon.) Binny Yanga, the founder Chairperson of Oju Welfare Association. Though she continued her activities but kept constant vigil on her mother-in-law's health since she was diagnosed with cancer in 2007, Right from Tata Memorial Hospital, Mumbai to Hayat Hospital, Guwahati, Anya as her attendant witnessed her last journey to the other world.
Admitting that the responsibility she has willingly shouldered would ensure an arduous journey throughout life as following her (Binny's) glorious path would demand sacrifices at every step, gravely said Anya whom I knew since long.
She has chosen to discontinue the legal profession, sacrificing a bright future, particularly for women, especially in Arunachal Pradesh, where the judiciary is still being separated from the executive, she quipped: "Legal profession is equally challenging through assures good earning but nothing could be compared to serving the humanity. That is what I have learnt from her," she said with confidence.
It is destiny that paved my way to the present assignment, she said, adding "I would seek guidance & blessing of seniors and well wisher, cooperation of one & all and try with commitment to walk on the tight rope".