WOMEN AND CHILD DEVELOPMENT
OWA has always been emphasizing on women & child development. The Organization has been rendering its services to the children-in-need, the orphan children and distressed and helpless women of the State. A glimpse of the activities of the Organization in the year 2011-12 is mentioned underneath with some of the related photos and the activities that have been taken places within these said years.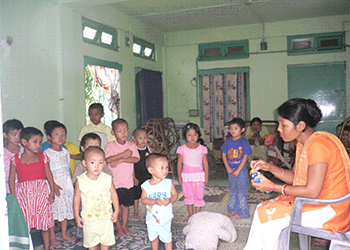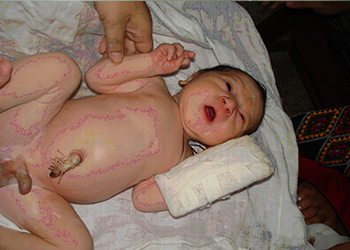 1.1 SHISHU GREH
Since 1998-99, OWA has been providing both institutional and non-institutional support to such orphan children. It is an accepted fact that the child develops best in his or her own cultural and social milieu. Thus, the priority of the organization is placement of a child through adoption in an indigenous setting which is essential for his/her growth and development. Therefore, there was a need for creating and setting up alternative support system in the community in order to provide care, protection and nurture to these abandoned or orphan children. Hence, a demand of a Shishu Greh (Orphanage) has been felt and resulted in establishing a Home (Shishu Greh) for the children between 0 to 6 yrs of age.
During the year 2011-2012, for in-country adoption, 09 abandoned children were admitted in the SHISHU GREH and 11 existing children summed up to 20. 07 numbers of the children were given in adoption in the year 2011-12. The annual recurring expenditure for running the Orphanage is met from the financial assistance received from Central Adoption Resource Agency (CARA), Ministry of Social Justice and Empowerment, Govt. of India, and contributions/ donations raised by the Association.
The objectives of the Shishu Greh are:
1.2 CRÈCHE
It is a home outside the home for a pre-school child whose mother is mainly engaged in wage labor. Moreover, with increased opportunities for employment for women and the need to supplement household income more and more women are being absorbed into different jobs. With the breaking up of joint family system and the increased phenomenon of nuclear families, working women need support in terms of quality, substitute care for their young children while they are at work. Crèche and Day care services are not only required by working mothers but also women belonging to poor families, who require support and relief for childcare as they struggle to cope with burden of activities, in and outside the home. The services provided to these children are:-
Since 1990-91, OWA has been running the CRÈCHE Programme for 50 children with financial aid from the Arunachal Pradesh State Social Welfare Board.
1.3 WORKING CHILDREN IN NEED OF CARE & PROTECTION (DESTITUTE CHILDREN)
Due to the changes in the traditional social structures and community support systems, on account of the pressures of daily life or due to urbanization and industrialization. The children are thus left to fend for themselves in greater numbers. OWA has also taken the initiative to provide care & protection to such working children and facilitate their entry or re-entry in the mainstream education. The children benefited under the scheme have either not attended any learning system or where for some reasons, their education has been discontinued. With a view to prevent their continued and future exploitation, OWA is implementing the scheme, supporting 150 working children for their wholesome development. The children are availing the opportunities including non-formal education, vocational training, etc. from the scheme.
The scheme of Children in Need of Care and Protection is sponsored by the Department of Social Welfare, Women and Child Development, Government of Arunachal Pradesh.
The Objectives of the OWA for the benefit of destitute children are:
1.4 SHORT STAY HOME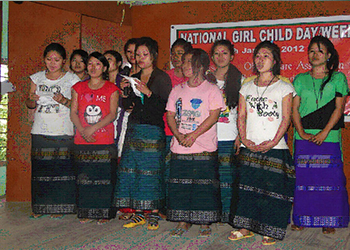 Various cases of marital conflicts, forced marriage and victims of domestic violence – both physical and mental, are reported every year in almost all over the country. In some societies of Arunachal Pradesh, the practice of bride-price is still prevalent. The girl is sold to a boy or a man in a family and the family in return pays a price in terms of money, cattle, wine, etc. to the bride's family. The girl is then considered almost sold to the groom's family and is forcibly married to a member of the family. The women or girls, who refuse to get marries are given shelter in the Short Stay Home. The Home also shelter victims of domestic violence, illigegal mothers, who do not have any family support and the abandoned ones. OWA provides them support, guidance and rehabilitation to regain confidence in them to meet the situation and to acquire skills to become self-reliant and to develop relationships with people that could help in the re-establishment of their status in society. For meeting the situation, institutional services, where counseling and guidance, medical and psychiatric check up and treatment, Vocational trainings in need-based trades for income generation & skill up gradation, educational, vocational and recreational activities are also being provided.
OWA is running the scheme with financial assistance from the Department of Women and Child Development, Central Social Welfare Board, Govt. of India. Being compelled by their circumstances and to earn their livelihood, many such girls & women get involved into anti-social acts or prostitution. In the current year, 30 women & girls were given shelter. With a view to protect and rehabilitate those women and girls who are facing social, economic and emotional problems due to problems pertaining in their family or society, OWA is sheltering and rehabilitating such women & girls since 1990-91.
1.5 FAMILY COUNSELING CENTRE
Family Counseling Center (FCC) aims to provide preventive counseling and rehabilitative services to women who are victims of atrocities, exploitation and family mal-adjustment etc. The services provided by FCC are sensitive and professional in nature and hence realizing the need of experienced Counselors, OWA has engaged a team of professionals for counseling. The scheme is basically to readdress the grievances arising between the couples, infidelity or for other reasons. The organization provides counseling, referral and rehabilitative services for women, seeking guidance from the FCC. The growing trends of atrocities on women and family mal-adjustment, OWA also takes necessary steps to create awareness regarding FCCs so that more women in distress could be benefited under the scheme.
This programme is being run since 1999-00, financed by Central Social Welfare Board, Govt. of India, New Delhi. 114 women were benefitted under this scheme in the year 2011-12.
1.6 WORKING WOMEN'S HOSTEL
The scheme of Working Women's Hostel was granted by the Ministry of Human Resource Development, Govt. of India in the year 1994-95. The Hostel was constructed in Papu Nallah, Naharlagun and OWA has been running the scheme effectively. The objective of the Scheme is to provide safe & secure hostel facilities to working women who have relocated themselves from rural & remote areas to earn their livelihood. The scheme is presently being continued by OWA from its own contributions and 18 women have been staying in the Hostel.
1.To regulated adoption within the country to ensure minimum standards in care of children.
2.To provide support for institutional care within the country for care and protection of infants and children up to 6 years of age who are either abandoned or orphaned/destitute and their rehabilitation through in-country adoption and to promote in-country adoption.
3.Regular medical check up is been done every week by registered medical practitioner.
4.Recreational facilities are provided to the children of the home.
5.Care of personal hygiene and minor ailments.
6.Nutrition supplement.
7.Pre-school value based education.
8To rehabilitate them as normal citizens in the community they belong to.
9To provide education, food, shelter, clothing, medical attention, pre-vocational and vocational training, recreation and cultural development and citizenship education and bring them in mainstream education.
10.Besides providing services for the destitute children, efforts are made to prevent further spread of destitution among the future generations.